Conference Name: 12th Singapore – International Conference on Social Science & Humanities (ICSSH), 15-16 November 2022
Registrations for Online LIVE Conference on Zoom Meeting Also Open
Conference Dates: 15-16 November 2022
Conference Venue: The National University of Singapore Society (NUSS) The Graduate Club, Suntec City Guild House, Singapore
Deadline for Abstract/Paper Submissions: 13 November 2022
Contact E-Mail ID: convener@eurasiaresearch.info
Organising Scholarly Association: Social Science & Humanities Research Association (SSHRA)
Conference Application Form: Click Here
SSHRA List of Members: Click Here
SSHRA President: Associate Prof. Marek Matejun, Department of Entrepreneurship and Industrial Policy, Faculty of Management, University of Lodz, Poland
Conference Language: English
Conference Themes: Social Sciences & Humanities
SSHRA Previous Conferences: Click Here
(Vernacular Session, e.g., European Languages, Arabic, Bahasa, Thai, Chinese, Turkish, Japanese, Russian, will be organised for a minimum of 5 or more participants of a particular language)
(Only English language, full-length, original papers will be considered for publication in conference journals)
Online LIVE International Conference, 2nd September 2020
Theme: Social Science & Humanities
In-person conference held in April 2022 at London, UK
Venue: The Tomlinson Centre, Queensbridge Road, London
KEYNOTE SPEAKER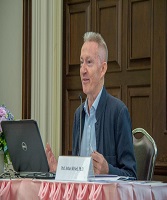 Dr. Arthur McNeill
Ph.D. dissertations and MA, Department of Education and Society, Institute of Science, Innovation, and Culture, Rajamangala University of Technology, Krungthep, Bangkok, Thailand
Topic: English-Medium Instruction (EMI) in the Humanities and Social Science: Over-Reliance on the Traditional Essay? 
Dr. Arthur McNeill supervises Ph.D. dissertations and MA theses at the Department of Education and Society, Institute of Science, Innovation, and Culture, Rajamangala University of Technology Krungthep. Before moving to Thailand in 2017, he was Director of the Center for Language Education and Associate Dean of Humanities and Social Science at the Hong Kong University of Science and Technology. Previous appointments include Associate Professor of Education Studies at Hong Kong Baptist University and Head of TESOL at Edinburgh University's Moray House School of Education. Among his recent publications are the co-edited book, Working Memory in Second Language Acquisition and Processing (Multilingual Matters).
University Portal link: linkedin.com/in/arthur-mcneill-phd-5a442015
KEYNOTE SPEAKER

Ma Victoria C. Magayon, Ed.D
Researcher-Author-Curriculum Writer-STEM Teacher-Professorial Lecturer-Formator
Taytay Senior High School DepEd Rizal
Topic: Sentimentalities and Preparedness of Senior High School Students in the Implementation of the Face-to-Face Learning Modality
Dr. Ma. Victoria Castillo- Magayon  is a formator (volunteer in supplementary values formation classes in public school) under the Great Lighthouse foundation, a professorial lecturer (masteral and doctorate classes), author of journal articles (authored journal articles are indexed in Google Scholar, Mendeley, ResearchGate, and Academia) such as Learning Mathematics and Differentiated Instruction in the Philippines: (1) Learning mathematics and differentiated instruction in the Philippines: A Phenomenographical study on struggles and successes of grade 7 students, (2) A Phenomenographical Study on Struggles and Successes of Grade 7 Students; (3) Expectation vs. Reality: A Sentiment Analysis of Students' Experience on Distance Learning, (4) The road Less Taken: Differentiated Instruction as Practice by Grade 7 Teachers in the Philippines, (5)  Supplementary values saturation program among students in the Philippines: Students' stance and value, (6) Technology adaptation of teachers and students under the learning continuity plan: A case of one school in the Philippines, (7) Grade 7 mathematics textbooks differentiation in the Philippines: Illusion or reality?, and many more;  a book author such as Organization and Management for senior high school under Kleafs Publishing House; and a peer reviewer of international journal articles (multidisciplinary and ISI journals-Publons). She is also a discussant of various topics both local (school-based in-set training and seminars) and in the international forum as a keynote speaker at 26th International Conference on Teaching, Education and Learning (ICTEL) Nanyang Technological University, Nanyang Executive Centre, Singapore (2017); online keynote speaker in 7th Singapore – International Conference on Social Science & Humanities (ICSSH), 03-04 November 2020; 9th Singapore – International Conference on Social Science (2021); and 11th Singapore International Conference on Social Science & Humanities (June 24, 2022)
                        She is a graduate of Bachelor of Science in Mathematics (Philippine Normal University, Manila- 1991), Master of Arts in Education major in Educational Management (University of Rizal System, 2006), and Doctor of Education major in Curriculum and Instruction (University of Santo Tomas, 2017).
                        At present she is a faculty (Science and Technology Engineering and Mathematics Department) teaching Practical Research 1-2 and Capstone Inquiries and Capstone Immersion and other related subjects; and a Guidance Designate of Taytay Senior High School, Division of Rizal. She is a regional Learning Resource evaluator in Edukasyon sa Pagpapakatao (EsP) since 2017 engagement such as in 2021 a conformance reviewer of Homeroom Guidance Program Module (Q3 G1-3) regional level; and in 2020, as a learning resource calibrator and conformance reviewer in ESP (G1-10) in the division of Rizal.
                        Currently approved as an associate member of the National Research Council of the Philippines (Division 1).
Media Partner
EIN Presswire has a distribution "foot-print" that includes millions of users of our EIN Newsdesk media monitoring services. We also maintain one of the world's leading media directories providing us with up-to-date contacts for media in every country and U.S. state. Further distribution is achieved via RSS, email, partner websites, and social media. We are both a destination (EIN Newsdesk) and a distributor (EIN Presswire) for news. In one place you can distribute your news to the targeted audiences you select and monitor news on that topic published by thousands of worldwide sources. For more information or to try us FREE, please visit www.einpresswire.com/free