Conference Name: 11th Bangkok – International Conference on Social Science & Humanities (ICSSH), 19-20 December 2022
Registrations for Online LIVE Conference on Zoom Meeting Also Open
Conference Dates: 19-20 December 2022
Conference Application Form: Click Here
Conference Venue: Asian Institute of Technology (AIT), Conference Center, Bangkok, Thailand
Format: In-Person and Online (Both)
Deadline for Abstract/Paper Submissions: 17 December 2022
Contact E-Mail ID: convener@eurasiaresearch.info
Organising Scholarly Association: Social Science & Humanities Research Association (SSHRA)
SSHRA List of Members: Click Here
SSHRA President: Associate Prof. Marek Matejun, Department of Entrepreneurship and Industrial Policy, Faculty of Management, University of Lodz, Poland
Conference Language: English
Conference Themes: Social Sciences & Humanities
SSHRA Previous Conferences: Click Here
(Vernacular Session, e.g., European Languages, Arabic, Bahasa, Thai, Chinese, Turkish, Japanese, Russian, will be organised for a minimum of 5 or more participants of a particular language)
(Only English language, full-length, original papers will be considered for publication in conference journals)
Online LIVE International Conference, 2nd September 2020
Theme: Social Science & Humanities
In-person conference held in April 2022 at London, UK
Venue: The Tomlinson Centre, Queensbridge Road, London
KEYNOTE SPEAKER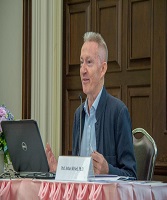 Dr. Arthur McNeill
Ph.D. dissertations and MA, Department of Education and Society, Institute of Science, Innovation, and Culture, Rajamangala University of Technology, Krungthep, Bangkok, Thailand
Topic: English-Medium Instruction (EMI) in the Humanities and Social Science: Over-Reliance on the Traditional Essay? 
Dr. Arthur McNeill supervises Ph.D. dissertations and MA theses at the Department of Education and Society, Institute of Science, Innovation, and Culture, Rajamangala University of Technology Krungthep. Before moving to Thailand in 2017, he was Director of the Center for Language Education and Associate Dean of Humanities and Social Science at the Hong Kong University of Science and Technology. Previous appointments include Associate Professor of Education Studies at Hong Kong Baptist University and Head of TESOL at Edinburgh University's Moray House School of Education. Among his recent publications are the co-edited book, Working Memory in Second Language Acquisition and Processing (Multilingual Matters).
University Portal link: linkedin.com/in/arthur-mcneill-phd-5a442015
KEYNOTE SPEAKER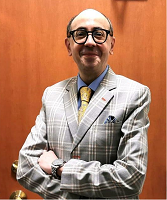 Prof. André Richelieu
Full Professor & Consultant in Sportainment
ESG UQAM – School of Business at Université du Québec in Montréal, Canada
Topic: 'Sportainment': A new ecosystem for the sport industry – Opportunities and challenges for Asia
André Richelieu has been a university professor for over twenty years now and has taught in universities dating back to 1992. Since 2002, he has specialized in brand management and sports marketing in the context of 'SPORTAINMENT' (merger of sport and entertainment, and the reconfiguration of the boundaries of the industry). His research relates to i) How can Schumpeter's 'creative destruction theory explains the remodeling of the sports industry's boundaries; ii) How can Sports entities leverage their brand equity by capitalizing on the emotional connection they share with their fans; iii) How can sports organizations and other stakeholders internationalize their brand; iv) How can cities and countries integrate sport into a successful place branding strategy; and v) How effective Sport for Development and Peace (SDP) initiatives can be. Besides the numerous journal articles, he has published, Prof. Richelieu is the co-author of five books, so far:  New Sport Marketing (in French; De Boeck Publishers, 2011), Sport Marketing (in French; De Boeck Publishers, 2018), Global Sport Marketing (in English; Routledge Publishers, 2012), International Sports Marketing: Issues and Practice (in English; Routledge Publishers, 2019) and Sport Marketing (in Chinese; Sun Yat-Sen University Press, 2014). Prof. Richelieu has given around 2,000 interviews to the Canadian and international media on sports marketing and sports business. He has recently launched his personal series of video capsules entitled 'the 'sportainment' news', available on YouTube and his website (https://www.andrerichelieu.com/videos). He has lived in and travelled to over sixty countries and territories in the Americas, Europe, Africa and Asia, for both leisure and professional purposes. He speaks five languages.
Media Partner
EIN Presswire has a distribution "foot-print" that includes millions of users of our EIN Newsdesk media monitoring services. We also maintain one of the world's leading media directories providing us with up-to-date contacts for media in every country and U.S. state. Further distribution is achieved via RSS, email, partner websites, and social media. We are both a destination (EIN Newsdesk) and a distributor (EIN Presswire) for news. In one place you can distribute your news to the targeted audiences you select and monitor news on that topic published by thousands of worldwide sources. For more information or to try us FREE, please visit www.einpresswire.com/free