Conference Name: 2023 SoRes Dubai – International Conference on Interdisciplinary Research in Social Sciences, 20-21 February
Registrations for Online LIVE Conference on Zoom Meeting Also Open
Conference Dates: 20-21 February 2023
Conference Venue: Landmark Hotel Riqqa, Dubai, United Arab Emirates
Deadline for Abstract/Paper Submissions: 15 January 2023
Contact E-Mail ID: convener@eurasiaresearch.info
Organizing Scholarly Association: Social Science & Humanities Research Association (SSHRA)
SSHRA List of Members: Click Here
SSHRA President: Associate Prof. Marek Matejun, Department of Entrepreneurship and Industrial Policy, Faculty of Management, University of Lodz, Poland
Conference Language: English
Conference Themes: Social Sciences & Humanities
Conference Application Form: Click Here
SSHRA Previous Conferences: Click Here
(Vernacular Session, e.g., European Languages, Arabic, Bahasa, Thai, Chinese, Turkish, Japanese, Russian, will be organized for a minimum of 5 or more participants of a particular language)
(Only English language, full-length, original papers will be considered for publication in conference journals)
Online LIVE International Conference, 2nd September 2020
Theme: Social Science & Humanities
In-person conference held in April 2022 at London, UK
Venue: The Tomlinson Centre, Queensbridge Road, London
KEYNOTE SPEAKER
Cut Maya Aprita Sari, S.Sos., M.Soc. Sc
Lecturer, Political Science Department, Faculty of Social and Political Science, Universitas Syiah Kuala-Banda Aceh-Indonesia
Topic: Why Ethnic Rebels? The Veil of Ignorance and the Ethnic Revival in South East Asia
Cut Maya Aprita Sari, S.Sos., M.Soc. Sc has served as a lecturer and researcher at the Political Science Department of Universitas Syiah Kuala Banda Aceh since 2013. She received her Master in political science majoring in ethnicity and Acehnese conflict. She was admitted as an awardee of the Aceh Government Scholarship 2019. Currently, she is a PhD student at the Institute of Ethnic Studies, Universiti Kebangsaan Malaysia. Her research interests are Political Theory and Philosophy, Conflict and Peace Studies, Ethnicity, Identity and Nationalism. She proved her ability to carry out independent studies on particular issues in society and later published them in the local media such as newspapers, magazines, and numerous academic journals. Those are interesting pieces of her genuine works on ethnicity, conflict, and identity.
University: http://fsd.unsyiah.ac.id/cutmayaapritasari/#skills
KEYNOTE SPEAKER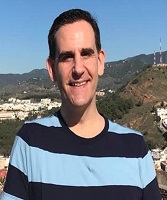 Dr Vincent La Placa
Faculty of Education, Health and Human Sciences, University of Greenwich, 113 Dreadnought Building  Royal Naval College, Park Row, London 
Topic: Public Health, Society and Policy
Dr Vincent La Placa is Associate Professor of Public Health and Policy at the University of Greenwich and Senior Fellow of the Higher Education Academy (HEA). Previously, he was a Senior Research Consultant at the Department of Health (now DHSC), where he managed the qualitative strand of the Healthy Foundations Life-stage Segmentation Model, one of the largest pieces of qualitative research conducted across UK government. He has recently co-edited the book, Social Science Perspectives on Global Public Health, with Dr Julia Morgan, published by Routledge. He also co- edited the book Wellbeing: Policy and Practice with Anneyce Knight and Allan McNaught, published in 2014. Dr La Placa was recently appointed an Honorary Fellow of Eurasia Research's Teaching, Education and Research Association (TERA).
University of Greenwich website: https://www.gre.ac.uk/people/rep/faculty-of-education-and-health/dr-vincent-la-placa
Google Scholar: https://scholar.google.co.uk/citations?user=hCRDjMcAAAAJ&hl=e
KEYNOTE SPEAKER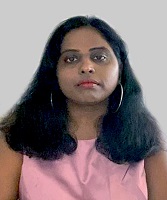 Dr. Rebecca Natrajan
Programme Leader MSC business, Northumbria University London Campus, London, UK
Topic: "A case study of female academic managers in London
Rebecca Natrajan is a passionate lecturer and believes in continuous learning. Currently works as Senior Lecturer in the department of Entrepreneurship, Module leader, Research supervisor, Personal tutor and SFHEA mentor at QAHE London for the University of Roehampton and University of Ulster Partnership programmes.  She coordinates projects such as the student magazine at QAHE, the Global business club for students, and Research team organisers for Staff. Modules delivered by Rebecca include International Entrepreneurship, Business Planning, Entrepreneurial development, Entrepreneurial opportunity, Career Entrepreneurship, Organisational Behaviour, Innovation and Entrepreneurship, Graduate Enterprise and Managing innovation. Personal Branding is one of her recent interests as her Personal branding workshops delivered by her at the British Academy of Management 2019 conference at Aston University was highly appreciated by the PDW participants. She uses different teaching methods such as case studies, EDP games, videos and other techniques to engage the learners and enhance their learning experience. Rebecca Natrajan presented a paper in conferences and delivers Master Classes, Personal development workshops for students and staff. She is appointed as a Chair for Special Panels, Symposiums and Seminar for GBATA 2020 conference to be held in Istanbul Turkey.
Qualifications:
in Business Administration, Madurai Kamaraj University
Senior Fellow, UK Higher Education Academy
DTFL one module as part of PGLTHE, London Metropolitan University
Award in Education and Training, Croydon Adult Learning and Training
Master in Business Administration, Madurai Kamaraj University
Linked In
https://www.linkedin.com/in/rebecca-natrajan-114472192/  
ResearchGate  https://www.researchgate.net/profile/Rebecca_Natrajan2 
Media Partner
EIN Presswire has a distribution "foot-print" that includes millions of users of our EIN Newsdesk media monitoring services. We also maintain one of the world's leading media directories providing us with up-to-date contacts for media in every country and U.S. state. Further distribution is achieved via RSS, email, partner websites, and social media. We are both a destination (EIN Newsdesk) and a distributor (EIN Presswire) for news. In one place you can distribute your news to the targeted audiences you select and monitor news on that topic published by thousands of worldwide sources. For more information or to try us FREE, please visit www.einpresswire.com/free