Conference Name: 5th Rome – International Conference on Social Science & Humanities (ICSSH), 06-07 September 2022
Registrations for Online LIVE Conference on Zoom Meeting Also Open
Conference Dates: 06-07 September 2022
Conference Venue: University of Washington – Rome Center (UWRC), Piazza del Biscione 95, 00186 Roma, Italy
Deadline for Abstract/Paper Submissions: 15 August 2022
Contact E-Mail ID: convener@eurasiaresearch.info
Organizing Scholarly Association: Social Science & Humanities Research Association (SSHRA)
SSHRA List of Members: Click Here
SSHRA President: Associate Prof. Marek Matejun, Department of Entrepreneurship and Industrial Policy, Faculty of Management, University of Lodz, Poland
Conference Language: English
Conference Themes: Social Sciences & Humanities
Conference Application Form: Click Here
SSHRA Previous Conferences: Click Here
(Vernacular Session, e.g., European Languages, Arabic, Bahasa, Thai, Chinese, Turkish, Japanese, Russian, will be organized for a minimum of 5 or more participants of a particular language)
(Only English language, full-length, original papers will be considered for publication in conference journals)
Online International Conference, 13th May 2020
Theme: Social Science & Humanities
In-person conference held in April 2022 at London, UK
Venue: The Tomlinson Centre, Queensbridge Road, London
KEYNOTE SPEAKER

Assoc. Prof. Katalin Liptak
Ph.D. in Economics, Dr.Iur, Associate Professor, Head of the Department, Vice-Dean, University of Miskolc, Faculty of Economics, Department of Labour Market and Employment Policy, Miskolc, Hungary
Topic: Workaholism or four days working week
Katalin graduated in Economist at the University of Miskolc, Faculty of Economics in 2008 and she graduated in Law at the University of Miskolc, Faculty of Law in 2015. Her research topic is the labour market, especially in the Central-Eastern-European region. She defended her PhD dissertation in 2013, the title was: "Impact of the globalization on regional labour markets – convergence or divergence". Katalin is an associate professor, vice-dean of the University of Miskolc, Faculty of Economics and head of the department of Labour Market and Employment Policy. The essence of her professional interest is how changed the labour market and the expectations of employees. She is a member of the Hungarian Regional Science Association till 2008. She is editor-in-chief of the Socialis Series in Social Science journal and a member of the editorial board of Tér és Társadalom journal.
ResearchGate: https://www.researchgate.net/profile/Katalin_Liptak
KEYNOTE SPEAKER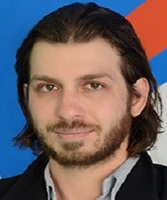 Navidreza Ahadi
PhD, Full-time Lecturer, Researcher, King Mongkut's Institute of Technology Ladkrabang Business School, Bangkok, Thailand
Topic – Impact of Satellite Technology in Digitizing Agricultural Businesses: Case of Small Scale Producers
Navidreza Ahadi has served on various national and international conferences and workshops as a keynote speaker and conference chair. He is currently a full-time lecturer at KMITL Business School and part of program committees for BBA in entrepreneurship. His research interests include organisation performance, mineral mining, and management, smart jewellery and technology management. A young ambitious professional with a passion for teaching, research, technology management and business analysis. His broad range of experience in academic and corporate shaped him to be able to work in a multicultural environment driven by continuous learning and persevering in global short and long-term objectives. He has been based in South East Asia for the past 14 years. A strong believer in teamwork, learner by nature and as we live in the era of digital transformation, he believes in business transforming and sustaining and improving through innovative technologies. He is proficient in Quantitative Analysis for Management, Introduction to Business Finance, Introduction to Marketing, Introduction to 21 Century Citizenship, Information System and Management and Cross-Cultural Management.
Profile Links:
Google Scholar: https://scholar.google.co.th/citations?user=iyhxNmgAAAAJ&hl=en
ResearchGate: https://www.researchgate.net/profile/Navidreza-Ahadi
Orcid ID: https://orcid.org/0000-0002-5866-0218
Media Partner
EIN Presswire has a distribution "foot-print" that includes millions of users of our EIN Newsdesk media monitoring services. We also maintain one of the world's leading media directories providing us with up-to-date contacts for media in every country and U.S. state. Further distribution is achieved via RSS, email, partner websites, and social media. We are both a destination (EIN Newsdesk) and a distributor (EIN Presswire) for news. In one place you can distribute your news to the targeted audiences you select and monitor news on that topic published by thousands of worldwide sources. For more information or to try us FREE, please visit www.einpresswire.com/free